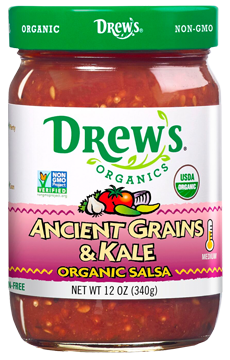 Ancient Grains & Kale Salsa
A liberal sprinkling of Chia Seeds, Quinoa, Teff, Kasha, Amaranth and Millet in a mellow medium-heat salsa gives this recipe a surprisingly pleasant nutty flavor note and texture. No need to BYOG (bring your own grains) to this party… we've added them for you!
Heat Level = Medium
0g Added Sugars per Serving
Ingredients
ORGANIC DICED TOMATOES, WATER, ORGANIC CRUSHED TOMATOES, ORGANIC KALE, ORGANIC GREEN BELL PEPPERS, SEA SALT, ORGANIC ONIONS, ORGANIC APPLE CIDER VINEGAR, ORGANIC CHIA SEEDS, ORGANIC QUINOA, ORGANIC TEFF, ORGANIC KASHA, ORGANIC AMARANTH, ORGANIC MILLET, ORGANIC CUMIN, ORGANIC CILANTRO, ORGANIC GARLIC, ORGANIC BLACK PEPPER, ORGANIC HABANERO POWDER.
Nutrition Facts
* Ingredients, nutrition facts, and allergen statements can change. Always refer to the actual package for the most current and accurate information.