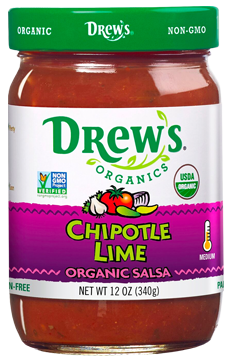 Chipotle peppers are smoke-dried jalapeños. At the end of the growing season, jalapeños naturally ripen and turn bright red. Kept on the bush as long as possible, they lose much of their moisture and turn dark red in preparation for smoking and drying. Our Chipotle Lime Medium Salsa combines these flavorful smoky peppers with a squeeze of lime juice and dash of sea salt and other spices… plus we throw in some ancho peppers (dried poblano peppers) for good measure. The result is a complex yet balanced smoky sensation!
Heat Level = Medium
0g Added Sugars per Serving
Ingredients
ORGANIC DICED TOMATOES, WATER, ORGANIC ONIONS, ORGANIC CRUSHED TOMATOES, ORGANIC GARLIC, ORGANIC CILANTRO, SEA SALT, ORGANIC APPLE CIDER VINEGAR, ORGANIC LIME JUICE CONCENTRATE, ORGANIC JALAPEÑOS, ORGANIC CHIPOTLE POWDER, ORGANIC ANCHO POWDER, ORGANIC CUMIN, ORGANIC BLACK PEPPER.
Nutrition Facts
* Ingredients, nutrition facts, and allergen statements can change. Always refer to the actual package for the most current and accurate information.