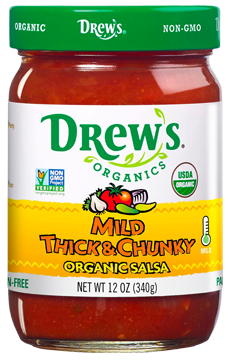 Mild Thick & Chunky Salsa
This traditional mild Pico de Gallo style salsa is reminiscent of those served in the taquerias of Mexico. We use only the finest tomatoes, peppers and onions and complement them with a sprinkling of cilantro, a dash of cumin, a squeeze of lime juice and a pinch of sea salt and black pepper to create this festive favorite. In addition to enjoying with tortilla chips, try on a burrito, mixed with eggs or even on your home-cooked pizza as a chunkier alternative to pizza sauce!
Heat Level = Mild
0g Added Sugars per Serving
Ingredients
ORGANIC DICED TOMATOES, ORGANIC ONIONS, WATER, ORGANIC CRUSHED TOMATOES, ORGANIC GARLIC, ORGANIC CILANTRO, ORGANIC APPLE CIDER VINEGAR, SEA SALT, ORGANIC LIME JUICE CONCENTRATE, ORGANIC CUMIN, ORGANIC JALAPEÑOS, ORGANIC BLACK PEPPER.
Nutrition Facts
* Ingredients, nutrition facts, and allergen statements can change. Always refer to the actual package for the most current and accurate information.