Grilled Eggplant, Tomato and Mozzarella Stacks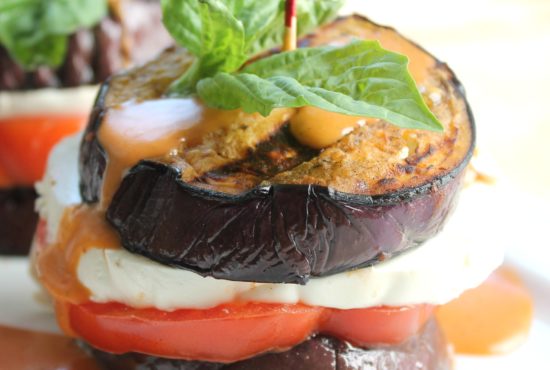 Preheat grill to medium heat. Brush the 12 slices of eggplant on both sides with 2 Tablespoons of Drew's Organic Smoked Tomato Dressing and Quick Marinade. Grill the eggplant slices for 5 minutes then flip and grill an additional 5 minutes, or until tender. Remove from grill and place on a platter.
Assemble stacks beginning with a slice of eggplant on the bottom. Layer on a slice of tomato, slice of mozzarella and top each stack with another slice of grilled eggplant. Once all stacks (6) are assembled, drizzle with remaining 2 Tablespoons of Drew's OrganicSmoked Tomato Dressing & Quick Marinade. Top with freshly ground pepper and a basil leave. Serve.
Tip: Ideally, the diameter of the eggplant, tomato and mozzarella slices should be close to equal size for the most stable and most eye-pleasing dish.
Jenny Shea Rawn MS, MPH, RD is a Cape-Cod, Massachusetts based Registered Dietitian, nutrition communications consultant and healthy food blogger at My Cape Cod Kitchen.
Ingredients
2 small eggplants, bottom trimmed, sliced into 6 thin rounds each (or use 1 large eggplant cut into 12 slices)
1 large heirloom tomato, thinly cut into 6 slices
8 oz. ball fresh mozzarella, thinly sliced into 6 rounds
6 fresh basil leaves
freshly ground pepper