Nutty Cran-Raspberry Couscous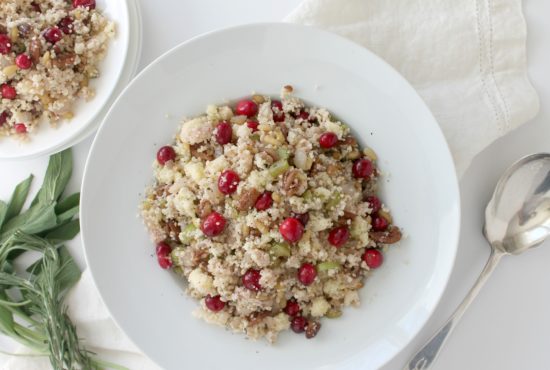 Bring 1 cup water and salt to a boil in a medium pot. Add couscous to the water slowly, stirring quickly. Cover pot, remove from heat and set aside. Fluff with a fork after 5-10 minutes.
Meanwhile, heat oil in a medium pan over medium-low heat. Add onion, sage, rosemary and thyme and sauté for about 10 minutes until onion is softened, stirring frequently. Add celery, cranberries, pine nuts and pecans and sauté until celery and cranberries are softened and nuts are lightly toasted, about another 10 minutes.  Add couscous and Drew's Organic Raspberry & Acai Dressing. Stir to combine. Serve.
Ingredients
1/4 tsp salt
1 cup uncooked couscous
1 tsp canola or avocado oil
1 medium Vidalia onion, diced
3 sage leaves, finely chopped
1 sprig rosemary (leaves only), finely chopped
1 sprig thyme (leaves only)
4 stalks celery, thinly sliced
1 cup fresh cranberries
1/2 cup pine nuts
1/2 cup pecans, chopped