Smoked Tomato and Portabella Pizza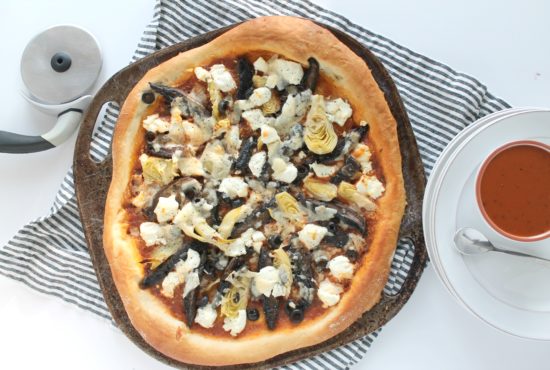 Preheat oven to 425 degrees. Spray a pizza pan or baking sheet with cooking spray and sprinkle lightly with flour.
In a large saute pan, heat olive oil over medium heat. Sauté mushrooms until their liquid is absorbed and the mushrooms are nicely browned, stirring frequently, about 10-15 minutes.
Lightly flour the dough and roll or stretch out to pan size.  Lay the dough on the pan or baking sheet.  Pour 6 ounces of the Drew's Organic Smoked Tomato Dressing in the center of the dough and spread evenly on the dough with the back of a spoon until lightly coated, leaving 1-2 inches of crust.  Top dough with mushrooms, olives, artichoke hearts, goat cheese and parmesan. Bake for 20-25 minutes, until dough is cooked through and crust is crispy.
Remove from oven and top with basil and freshly ground pepper. Slice and serve with additional Drew's Organic Smoked Tomato Dressing.
Ingredients
½ pound portabella mushrooms, sliced
1 Tablespoon olive oil
16 – 18.5 oz pre-made pizza dough
Flour to work dough 
¼ cup sliced black olives, drained and rinsed
1 12 oz jar quartered and marinated artichoke hearts
6 oz goat cheese, crumbled
2 oz shaved parmesan cheese
¼ cup fresh basil leaves, slivered
Freshly ground black pepper