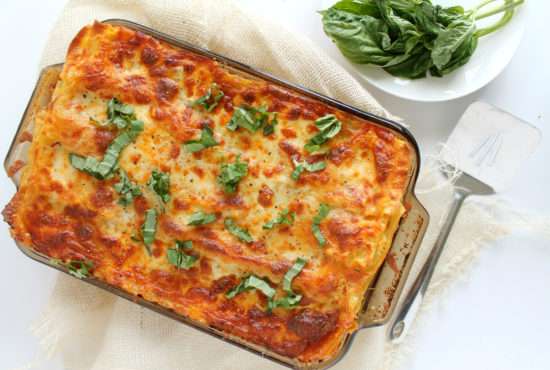 Preheat oven to 425
Cook the lasagna noodles until al dente, according to directions on the box. Once cooked, set aside on baking sheets sprayed with nonstick cooking spray, to prevent sticking, until ready to assemble the lasagna.
Place eggplant slices on paper towels in a single layer. Sprinkle salt on both sides of eggplant and let sit 20 minutes. Prepare a baking sheet with tinfoil. Toss eggplant in 1 tablespoon extra virgin olive oil and lay on baking sheet in a single layer. Roast for 10 minutes in preheated oven then remove from oven.
In a medium saute pan, add 1 tablespoon extra virgin olive oil over medium heat. Add onion, saute 10 minutes, then add mushrooms and saute another 10 minutes. Add garlic and saute 2 more minutes. Remove from heat and set aside.
To assemble lasagna: spray a 13 x 9 baking dish or lasagna dish with nonstick cooking spray. Layer the following in 4-5 layers: Drew's Organic Smoked Tomato Dressing, noodles, dressing, vegetables (alternate between eggplant and mushrooms + onions), cheese (grated parmesan + ricotta dollops). Repeat until you reach the last layer of lasagna noodles. Top noodles with the last bit of dressing and 6 ounces of shredded mozzarella. Cover dish with foil and bake for 45 minutes. Remove the foil and bake for another 15 minutes. Broil for the last 2 minutes. Remove from the oven and let stand for 10-15 minutes before serving. Top with slivered basil just prior to serving.
Note: you can saute and roast the vegetables the day prior to cut down on day-of prep time.
Ingredients
1 lb. lasagna noodles
1 medium eggplant, thinly sliced
3 tablespoons extra virgin olive oil, divided
1 large Vidalia onion, diced
8 ounces baby bella mushrooms, trimmed and sliced
4 cloves garlic, minced
16 ounces ricotta
5 ounces grated parmesan
6 ounces shredded mozzarella
1 bunch fresh basil, slivered
Salt and ground pepper