Ancient Grains and Kale Spaghetti Squash Boats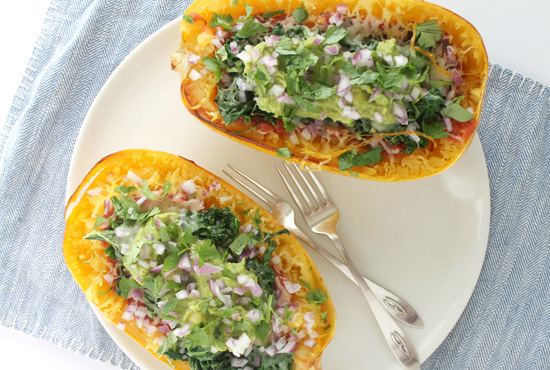 Recipe by Jenny Shea Rawn MS, MPH, RD
Preheat oven to 425 degrees F. Prepare a baking sheet with tinfoil. Poke spaghetti squash a few times with a fork and microwave 3-4 minutes. Remove squash carefully from microwave and let cool slightly. Using a kitchen towel to protect your hand from the heat, slice squash in half and remove and discard the seeds. Drizzle the cut side of each squash half with 1 Tablespoon olive oil. Place face down on the baking sheet and roast 30 minutes or until tender. Remove squash from oven. Using a fork, loosen the spaghetti squash strands and set aside.
Meanwhile, in a large sauté pan, heat remaining 1 Tablespoon olive oil over medium heat. Add kale and sauté 10-15 minutes until tender. Add the garlic during the last two minutes of sautéing. Remove kale from heat.
Assemble the boats by layering each squash half with kale, Drew's Organic Ancient Grains and Kale Salsa, cheese, guacamole, red onion and cilantro. Serve.
Jenny Shea Rawn MS, MPH, RD is a Cape-Cod, Massachusetts based Registered Dietitian, nutrition communications consultant and healthy food blogger at My Cape Cod Kitchen.
Ingredients
1 spaghetti squash
2 Tablespoons extra virgin olive oil, divided
4 oz chopped kale greens
1 clove garlic, minced
8 oz Drew's Organics

4 oz shredded cheddar cheese
4 oz prepared guacamole
½ red onion, diced
½ cup cilantro, chopped