Asparagus Bowl with Potatoes and Roasted Garlic & Peppercorn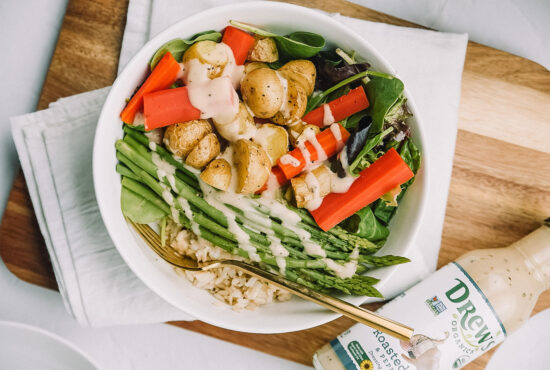 Preheat the oven to 400 degrees F. Bring one cup of brown rice to a boil and cook according to directions.
While the rice is cooking, chop 1 inch from the bottom of the asparagus spears and dispose of the ends. Peel and cut the carrots into halves, and then cut 2-inch long sized sticks. Chop the potatoes into halves as well.
Drizzle with olive oil and season with salt and pepper. Transfer the asparagus, carrots and potatoes to a parchment-lined baking sheet. Roast in the oven for 30 minutes turning every 10 minutes.
Add rice to the bottom of the bowl and layer with baby spinach, asparagus spears, potatoes and drizzle with Drew's Organics Roasted Garlic & Peppercorn Dressing.
Jasmin Foster is a registered dietitian and food photographer in Washington, D.C. who believes in healthy balanced eating.
Ingredients
1 cup brown rice
2 cups baby spinach
1 bunch asparagus spears
2 cups white potatoes
2 large carrots