Baked Protein Cheese Crackers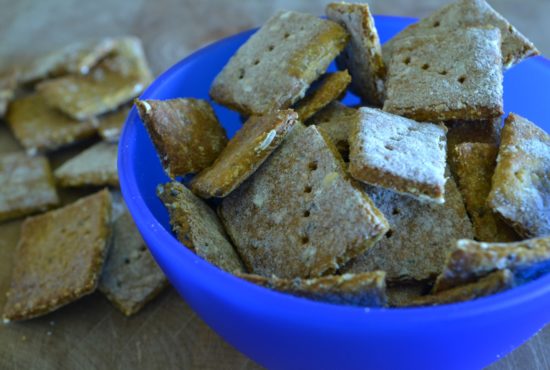 Combine flour, oat bran, cheeses, salt, and cayenne in the bowl of a food processor. Pulse until crumbly and then add in salsa a little at a time, until dough comes together. (You may need to add more)· Wrap dough in plastic wrap and quickly chill in freezer for 5–10 minutes or in fridge overnight.
Preheat oven to 350º. Line 2 baking sheets with parchment paper or nonstick silicone mats. Set aside.
Place dough between floured parchment paper or a silicone mat; it can be sticky. With a rolling pin, roll to 1/8-inch thickness. Using a pizza cutter, cut into 2-inch squares or whatever size you like. Poke holes with a fork or toothpick in each one to help keep them from being too puffy.
Slide parchment paper or mats onto baking sheets. Bake for 20 to 25 minutes, until crackers turn a light brown and are crisp. Remove one to let cool and check to see if it's crispy. If they are not crisp, bake a few minutes longer.
Remove from oven and let cool completely. Store in an airtight container for up to 5 days (they won't last that long!).
Ingredients
1/2 cup any flavor of Drew's Organic Salsa
1 cup whole grain spelt flour (Wheat or Corn flour will work also)
3/4 cup unflavored protein powder (or just use more flour if desired)
1/2 cup oat bran
4 tablespoons low-fat cottage cheese
4 ounches creamy goat cheese (chevre); you could use all cottage cheese for a lower fat optio
1/4 teaspoon salt
1/2 teaspoon cayenne pepper (optional, but highly recommended)
1/2 tablespoon cumin