Baked Roasted Garlic and Peppercorn Chicken Tenders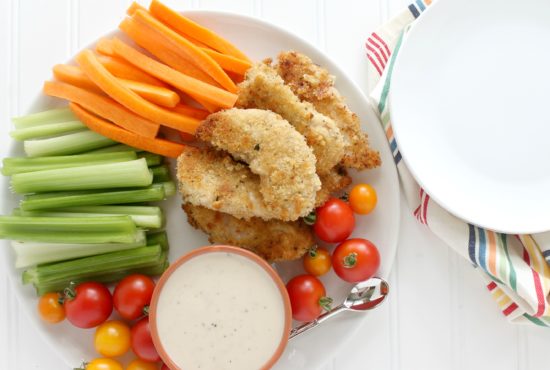 Preheat oven to 425 F. Line two large baking sheets with tinfoil or parchment paper and spray with nonstick cooking spray. Prepare your chicken breading station by placing flour, dressing and panko crumbs into three separate large bowls or plates. Using your hands, or a fork and working with a few chicken tenders at a time, dip chicken into flour, coating chicken on both sides and shaking off the excess. Then dip chicken into dressing, coating on both sides and shaking off the excess. Lastly dip chicken into panko crumbs, coating on both sides and shaking off the excess, then place onto prepared baking sheet. Repeat until all the chicken has been breaded. Discard remaining flour, dressing and breadcrumbs.
Place chicken into the oven and bake for 8 minutes. Remove baking sheets from the oven and flip chicken with tongs and bake another 8-12 minutes until golden brown and until chicken reaches an internal temperature of 165 degrees F, as measured with a meat thermometer in the thickest part of the tender. Remove chicken from oven.
Place carrots, celery, tomatoes and chicken on a large serving platter. Place dressing in a small bowl for dipping and place on platter. Serve immediately.
Jenny Shea Rawn MS, MPH, RD is a Cape Cod, Massachusetts based Registered Dietitian, nutrition communications consultant and healthy food blogger at My Cape Cod Kitchen.
Ingredients
1 cup all purpose flour
2 cups Italian seasoned panko crumbs
1.5 lbs chicken tenders
FOR SERVING: 12 carrots trimmed and cut into sticks, 12 celery stalks trimmed and cut into sticks, 2 cups cherry or grape tomatoes, and Drew's Organic Roasted Garlic Peppercorn Dressing & Quick Marinade for Dipping