Black Bean Burgers with Thousand Island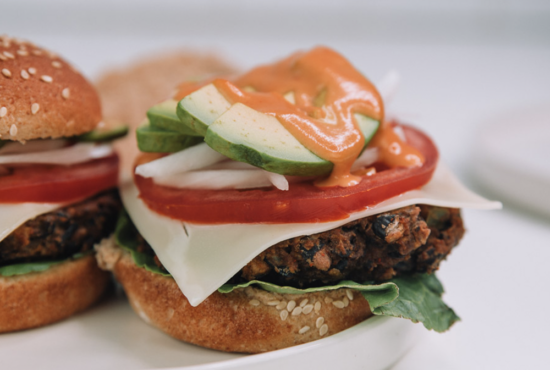 Preheat oven to 325 degrees F. Drain, rinse and lightly pat dry the black beans to remove excess water. Spread out the black beans on a large baking sheet and roast for 15 minutes. While the beans are in the oven, grate the onions, finely chop the green bell pepper and mince the garlic. Heat a medium saucepan, add olive oil and saute the onion and green bell pepper. Cook for 3-4 minutes. Then add the garlic and continue to saute for another minute. Set aside.
In a large bowl, add the black beans. Then add the onion, green bell pepper, garlic, chili powder, cumin, smoked paprika, breadcrumbs, salt/pepper and eggs. Mix together using a fork or masher, smashing most of the black beans but keeping some chunks for texture.
Use a 1/2 cup measurement to form round patties with your hands and place them on a parchment-lined baking sheet. Preheat oven to 375 degrees F and cook the black bean burgers in the oven for about 20 minutes (flipping the burgers halfway through to cook 10 minutes each side).
Remove from the oven. Assemble the burger by placing the bun, burger and additional condiments or toppings together.
Leftover burgers will last in the fridge for about 5 days. To freeze, place in a plastic bag separated by parchment paper.
Jasmin Foster is a registered dietitian and food photographer in Washington, D.C. who believes in healthy balanced eating.
Ingredients
2 14 oz cans of black beans
1/2 green bell pepper (finely chopped)
1 cup yellow onion (grated)
1 tbsp olive oil
3 cloves of garlic
1 tbsp chili powder
1 tsp cumin
1/2 tsp smoked paprika
2 large eggs
1/2 cup breadcrumbs
salt and pepper