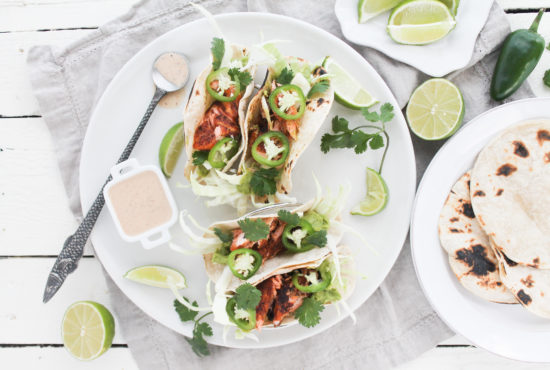 Preheat the grill to high heat. Clean and oil the grates.
In a small bowl, combine paprika, cumin, garlic powder, thyme, sea salt and black pepper. Mix well.
Place salmon skin side down on a piece of tin foil. Coat the fish with the seasoning and press into flesh. Place salmon (on tinfoil) on the grill over direct heat. Reduce heat to medium. Grill until salmon is cooked through, or until desired doneness. Remove salmon from grill. Flake salmon once cooled, slightly.
To assemble the tacos, spread mashed avocado on the center of a corn tortilla. Top with thinly sliced cabbage, flaked salmon, cilantro and jalapeño slices (optional). Drizzle with Drew's Organics Chipotle Ranch Dressing and Quick Marinade.
Serve with lime wedges.
Jenny Shea Rawn MS, MPH, RD is a Cape-Cod, Massachusetts based Registered Dietitian, nutrition communications consultant and healthy food blogger at My Cape Cod Kitchen.
Ingredients
1 pound salmon filets
1 tablespoon paprika
1 teaspoon garlic powder
2 teaspoons cumin
1/4 teaspoon black pepper
1/2 teaspoon sea salt
1/2 teaspoon dried thyme
2 avocados, flesh scooped out and mashed
10-12 corn tortillas, warmed
1/2 small head greed cabbage, thinly sliced
1/2 cup chopped cilantro leaves
1 jalapeño, seeded and thinly sliced (optional)
1 lime, cut into wedges