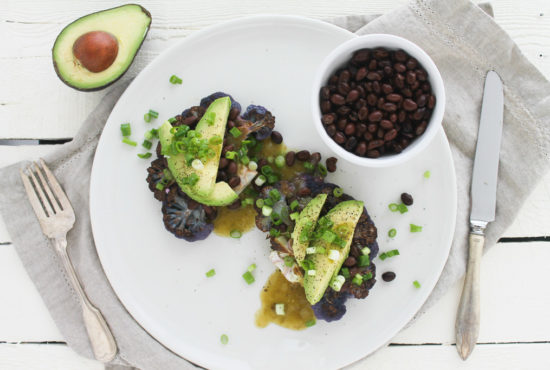 Preheat oven to 425. Prepare a baking sheet with tinfoil.
Drizzle cauliflower steaks with extra virgin olive oil and sprinkle with salt and pepper. Place on baking sheet and roast for 15 minutes, flip, then roast an additional 15 minutes until the cauliflower is lightly browned and tender. Remove from oven.
Plate cauliflower steaks and top with Drew's Organics Tomatillo Verde Salsa, black beans, avocado and scallions. Serve.
Jenny Shea Rawn MS, MPH, RD is a Cape-Cod, Massachusetts based Registered Dietitian, nutrition communications consultant and healthy food blogger at My Cape Cod Kitchen.
Ingredients
1 large head of cauliflower, cut into 4 "steaks" (set aside any extra florets and roast those on a separate baking sheet for another use)
1 Tablespoon extra virgin olive oil
½ cup Drew's Organics

10 oz black beans, drained and rinsed
1 avocado, sliced
1 bunch scallions, thinly sliced (white and green parts)
Salt
Black pepper