Cheesy Smashed Potatoes with Chipotle Lime Salsa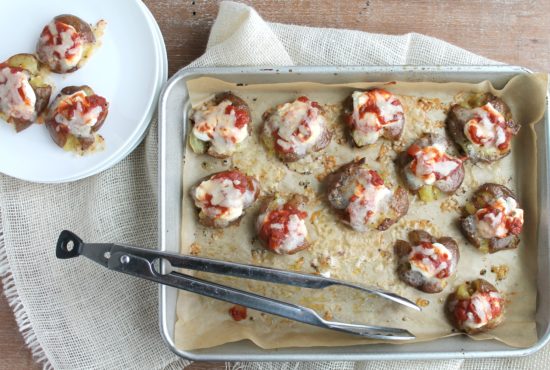 Preheat oven to 425 degrees. Bring a large pot of salted water to a boil. Boil potatoes for 20 minutes or until fork tender. Line a baking sheet with tinfoil or parchment paper. Remove potatoes from pot and carefully pat dry with a dishtowel (careful, potatoes are very hot!). Place potatoes on baking sheet and using the bottom of the Drew's Salsa jar, press down gently on each potato, flattening it. Drizzle potatoes with extra virgin olive oil and sprinkle with salt and pepper.
Bake for 20 minutes until they begin to crisp on the outside. Remove from oven and top each potato with a small dollop of Greek yogurt and a small dollop of salsa. Sprinkle with cheddar. Broil 2 minutes until cheese is melted. Serve.
Recipe by Jennifer Shea Rawn MS, MPH, RD (www.JennySheaRawn.com)
Ingredients
¾ lb. blushing belle creamer potatoes, scrubbed (or small new potatoes)
2 tbsp. extra virgin olive oil
salt & pepper
¼ cup plain Greek yogurt
3/4 Drew's Organics

2 oz. cheddar, shredded