Chicken Apple Walnut Salad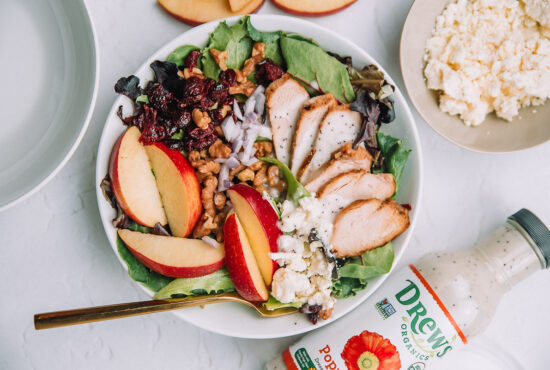 In a medium to large bowl, add chicken and drizzle with half of the olive oil.
Add onion powder, garlic powder, dried basil, smoked paprika, salt and pepper to the bowl. Toss evenly to coat chicken and combine.
Heat a large skillet over medium heat and pour in the olive oil. Place chicken in the hot skillet and cook for 5-6 minutes. Flip chicken over and continue to cook for 5-7 minutes or until chicken has reached 165 degrees F.
Remove chicken from the pan and let cook for an additional 5 minutes. Slice the chicken into thin strips and set aside.
In a large bowl, layer mixed greens at the bottom followed by the chicken strips, sliced apples, feta cheese crumbles, chopped red onion, walnuts and dried cranberries.
Drizzle Drew's Organics Poppyseed Dressing & Quick Marinade on top and enjoy!
Jasmin Foster is a registered dietitian and food photographer in Washington, D.C. who believes in healthy balanced eating.
Ingredients
2 chicken breasts
¼ cup olive oil (divided)
¼ tsp onion powder
¼ tsp garlic powder
¼ tsp dried basil
¼ tsp smoked paprika
¼ tsp salt
¼ tsp pepper
2 apples (cored and sliced)
½ cup feta cheese (crumbles)
⅓ cup red onion (chopped)
¾ cup walnuts
½ cup dried cranberries
½ cup Drew's Organics