Chipotle Ranch Avocado Bowls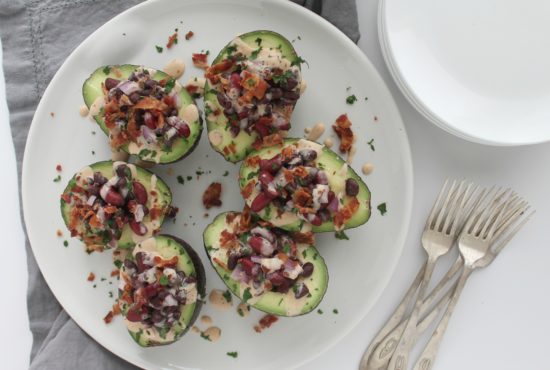 Combine black beans, kidney beans, red onion, rice vinegar and extra virgin olive oil in a medium bowl.
Toss to combine. Refrigerate for 30 minutes to let flavors meld, if possible.
Place avocado halves on a platter (do not remove flesh from shell, as you will serve the halves in shell).
Spoon bean mixture into each half.  Drizzle Drew's Organic Chipotle Ranch Dressing & Quick Marinade overtop the avocados.  Top with crumbled bacon and parsley. Serve immediately.
Recipe note: Feel free to substitute any canned beans you have on hand – or use frozen, thawed corn in place of one of the beans. Summertime tomatoes are also great added to the bean mixture.
Jenny Shea Rawn MS, MPH, RD is a Cape-Cod, Massachusetts based Registered Dietitian, nutrition communications consultant and healthy food blogger at My Cape Cod Kitchen.
Ingredients
1/2 cup black beans, rinsed and well drained
1/2 cup kidney beans, rinsed and well drained
1/4 red onion, finely chopped
2 Tbs seasoned rice vinegar
1 Tbs extra virgin olive oil
3 avocados, halved and pitted
3 strips cooked bacon, crumbled
1Tbs chopped parsley