Cranberry Rosemary Balsamic Roasted Chicken & Veggies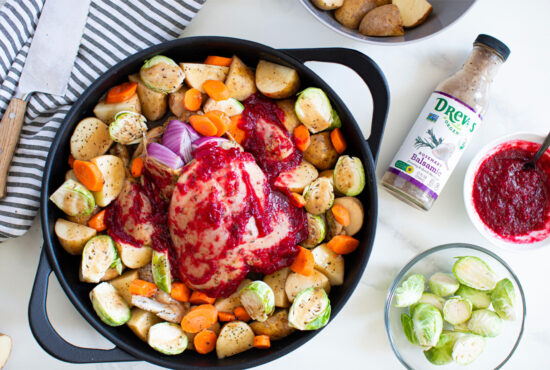 Preheat your oven to 400 degrees F and prepare a large cast-iron skillet, lightly greasing it.
Add your seasoned chicken to the center of your skillet and spread it out a bit to ensure that everywhere is cooked through.
Next, add in the potatoes, carrots and brussels sprouts, coating them lightly with grapeseed oil and lightly seasoning them.
Drizzle Drew's Organics Rosemary Balsamic Dressing atop chicken and brush cranberry sauce onto it until fully covered. Stuff inside of chicken with onions and lemons.
Bake in the oven for 40-45 minutes, until chicken begins to cook through and veggies begin to become tender.
In the meantime, in a small saucepan on medium-high heat, heat the Drew's Organics Rosemary Balsamic Dressing and remaining cranberry sauce together, stirring until it becomes bubbly, about 1-2 minutes. Remove from heat.
Spoon the heated sauces over the top of the chicken and veggies, add whole cranberries (fresh or frozen), baking everything for another 20-25 minutes.
Once done and chicken and veggies are golden brown and have fully cooked through, remove from oven and serve immediately.
Garnish with dried parsley, if desired.
Shanika of Orchids + Sweet Tea is a food blogger and recipe developer creating comfort foods and sweets, with a healthy twist.
Ingredients
1 (2-3 lb) whole chicken (giblets removed, cleaned & marinated overnight)
2 cups homemade cranberry sauce
1 medium red onion (halved)
2 large lemons (quartered)
2 large carrots (peeled & chopped)
2-3 cups brussels sprouts (halved)
7-8 medium potatoes (rinsed & diced)
1-2 tbsp grapeseed oil
1 tsp sea salt
1 tsp black pepper
1 tbsp dried parsley
1 tsp smoked paprika
1 tsp oregano
1/3 cup cranberries (fresh or frozen)