Fish Tacos with Cilantro Slaw and Mango Habanero Salsa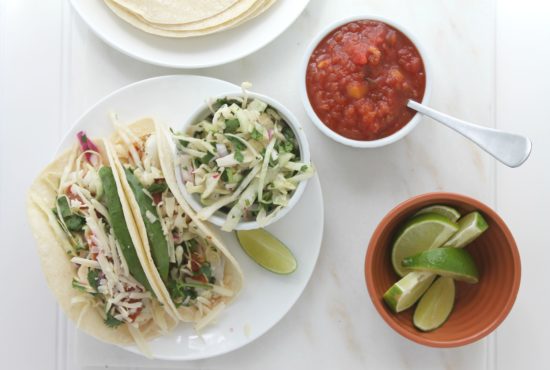 Pat fish dry and season with salt and pepper on both sides. Set aside. Meanwhile, make slaw by combining cilantro, green cabbage, red onion, the juice of 1 lime, 2 Tbsp extra virgin olive oil and salt and pepper to taste. Toss slaw and set aside.
Preheat remaining 1 Tbsp olive oil in a non-stick pan over medium-high heat. When oil is hot, add fish and reduce heat to medium. Pan fry fish for 4-5 minutes on each side, depending on thickness of filet, or until opaque and flaky. Remove fish from heat. Let fish cool slightly then flake and place in a bowl.
Heat tortillas, wrapped in a clean kitchen towel, for 30 seconds in the microwave. Place tortillas on a plate. Assemble tacos by laying tortillas with fish, cilantro slaw, avocado, cheddar cheese and salsa. Serve with plain yogurt, lime wedges and additional salsa.
Jenny Shea Rawn MS, MPH, RD is a Cape-Cod, Massachusetts based Registered Dietitian, nutrition communications consultant and healthy food blogger at My Cape Cod Kitchen.
Ingredients
1 lb. haddock (or other white fish) filet, skinned
½ cup cilantro, roughly chopped
2 ½ cups green cabbage, thinly sliced
½ red onion, diced
1 avocado, thiny sliced
3 tbsp. extra virgin olive oil, divided into 1 and 2 tbsp.
2 limes (1 halved and used for the cabbage slaw, 1 cut into wedges for serving
1 cup shredded cheddar cheese
½ plain whole milk yogurt
1 cup Drew's Organics

12 small corn or flour tortillas
salt
pepper