Goddess Grilled Chicken & Rice Salad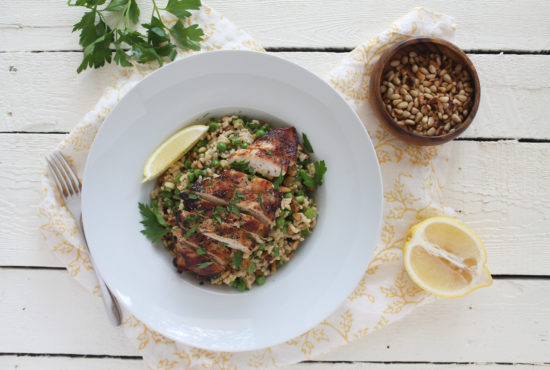 Place chicken and ½ cup Drew's Organic Tahini Goddess Dressing and Quick Marinade in a resealable bag and place in the refrigerator. Marinate chicken for 30 minutes. Preheat grill to medium-high heat. Clean and oil grill grates. Grill chicken until it reaches an internal temperature of 165 degrees F, as measured with a meat thermometer in the thickest part of the breast, flipping halfway through cooking time. Discard marinade. Remove chicken from grill and slice when slightly cooled.
Meanwhile, microwave frozen peas in a microwave safe container for 2 ½ -3 minutes, or until heated through.
Place cooked brown rice, peas, scallions, raisins and parsley in a large bowl. Pour remaining ½ cup Drew's Organic Tahini Goddess Dressing and Quick Marinade over mixture. Toss to combine.
Top salad with grilled chicken and freshly ground pepper. Serve salad with lemon wedges.
*Toast pine nuts in a dry skillet over medium heat until fragrant and lightly browned. Do not leave unattended as pine nuts will burn easily.
Recipe note: this salad is also delicious the next day either cold or pan-fried in a skillet.
Jenny Shea Rawn MS, MPH, RD is a Cape-Cod, Massachusetts based Registered Dietitian, nutrition communications consultant and healthy food blogger at My Cape Cod Kitchen.
Ingredients
1 ½ lbs boneless, skinless chicken breast
1 cup, divided Drew's Organics Tahini Goddess Dressing & Quick Marinade

1 ½ cups frozen peas
1 cup dry brown rice, prepared as directed
1 bunch scallions, white and green parts, thinly sliced
½ cup pine nuts, toasted*
½ cup golden raisins
¼ cup flat leaf parsley, finely chopped
Freshly ground black pepper
1 lemon, cut into wedges