Greek Salad Stuffed Sweet Potatoes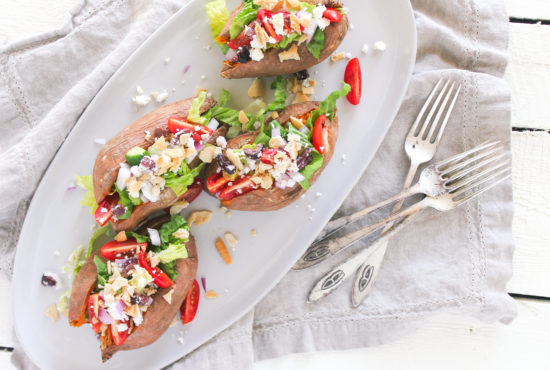 Preheat oven to 350 degrees F. Pierce sweet potatoes a few times with a fork and place directly onto top baking rack in oven with a baking sheet underneath on the bottom rack (in case any juices drip). Bake for 45-55 minutes (depending on potato size), or until sweet potatoes are tender when pierced with a fork or sharp knife. Remove from oven.
Let sweet potatoes cool slightly then slice open lengthwise and spread open a bit. Mash pulp of each sweet potato with a fork.
In a large bowl, combine lettuce, cucumbers, tomatoes, olives, onion, feta and Drew's Organics Greek Olive Dressing and Quick Marinade. Toss to combine. Stuff each sweet potato with Greek salad (allow the salad to be overflowing from the potato). Top each potato with crushed pita chips. Serve.
Jenny Shea Rawn MS, MPH, RD is a Cape-Cod, Massachusetts based Registered Dietitian, nutrition communications consultant and healthy food blogger at My Cape Cod Kitchen.
Ingredients
6 medium sweet potatoes, scrubbed
½ head romaine lettuce, chopped
3 mini cucumbers, sliced or diced (or 1 medium cucumber)
½ pint grape tomatoes, quartered lengthwise
¼ cup Kalamata olives, pitted and sliced
½ red onion, diced
½ cup crumbled feta cheese
½ cup (plus more for serving, if desired) Drew's Organics

1 cup pita chips, crushed