Grilled Caesar Shrimp Rolls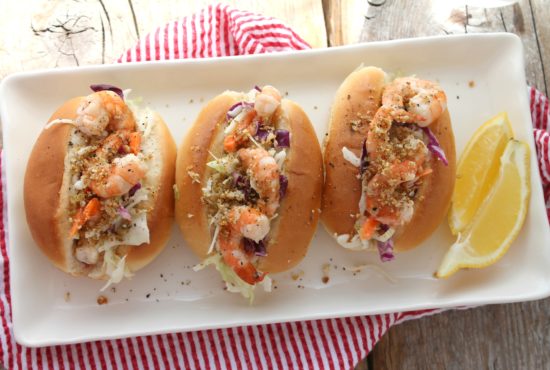 Combine coleslaw and ½ cup Drew's Organic Romano Caesar Dressing & Quick Marinade. Refrigerate. Place shrimp in a plastic bag along with the remaining ¼ cup of Drew's All-Natural Romano Caesar Dressing & Quick Marinade.
Preheat grill to medium high. Marinate shrimp for 15 minutes. Meanwhile, place croutons in a sealed plastic bag and crush with a wooden or plastic spoon. Remove shrimp from marinade, pat dry and place on the grill. Discard marinade. Grill shrimp over direct heat 2-3 minutes on each side, or until shrimp just turns opaque and is cooked through (grilling time will vary depending on the size of the shrimp). Remove from heat.
Assemble eight rolls by adding a scoop of coleslaw to each bun and then topping with shrimp. Sprinkle crushed croutons overtop the rolls. Serve with lemon wedges.
Recipe by Jenny Shea Rawn MS, MPH, RD. Jenny Shea Rawn is a Cape Cod, Massachusetts-based Registered Dietitian, nutrition communications consultant and healthy food blogger at My Cape Cod Kitchen.
Ingredients
1 package (14 oz.) 3-color cole slaw
1 lb. raw USDA grown shrimp, deveined and peeled (41/50 count)
½ cup Caesar croutons
8 mini hot dog buns or small dinner rolls
1 lemon, cut into wedges