Grilled Chicken, Nectarine, and Mozzarella Salad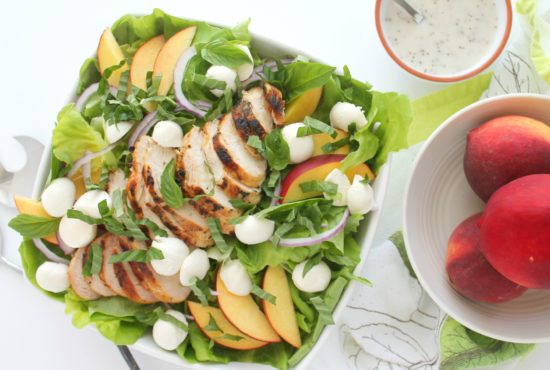 Add chicken and marinade to a large resealable bag. Marinate for 30 minutes. Preheat grill to medium high heat. Clean and lightly oil grates. Place chicken on the grill and grill until internal temperature reaches 165 degrees F. Discard marinade. Remove chicken from grill and let cool slightly. Meanwhile, on a large serving platter or in a large salad bowl, add lettuce, then top with mozzarella, nectarine slices, red onion and slivered basil. Slice chicken and lay atop the salad. Top salad with freshly cracked black pepper and drizzle with desired amount of dressing. Serve family style with crusty rolls or chunks of baguette.
Jenny Shea Rawn MS, MPH, RD is a Cape Cod, Massachusetts based Registered Dietitian, nutrition communications consultant and healthy food blogger at My Cape Cod Kitchen.
Ingredients
8 oz Drew's Organics

2 lbs organic chicken breast
1 head butter lettuce, washed and torn into bite-sized pieces
4 oz ciliegine fresh mozzarella (cherry sized mozzarella balls), halved
2 nectarines, thinly sliced
1/2 small red onion
1/4 cup slivered basil
freshly cracked black pepper