Grilled Chicken Pasta Salad with Spring Herbs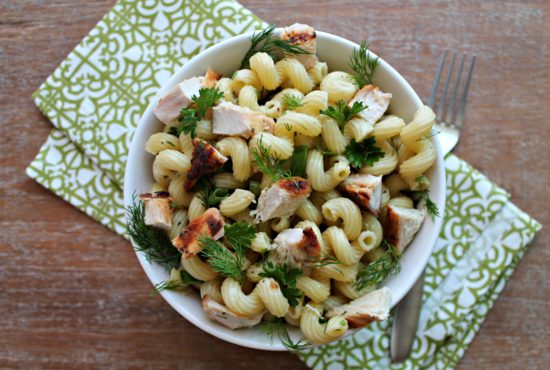 Marinate chicken breasts in ½ cup Drew's Organic Classic Italian Dressing & Quick Marinade for 30 minutes. Preheat grill to medium. Meanwhile, cook pasta according to directions until al dente, about 8 minutes. Set aside.
Grill chicken until cooked through and until it reaches an internal temperature of 165 degrees, flipping halfway through cooking time (time will vary depending on thickness of chicken breasts). Remove from grill, let cool slightly, then thinly slice. Toss chicken with pasta, dill, scallions, parsley and remaining ½ cup dressing. Serve.
Jenny Shea Rawn MS, MPH, RD is a Cape-Cod, Massachusetts based Registered Dietitian, nutrition communications consultant and healthy food blogger at My Cape Cod Kitchen.
Ingredients
1.5 lb. chicken breasts
1 lb. Cavatappi pasta (or your favorite pasta)
1 cup lightly packed fresh dill leaves, chipped
1 bunch scallions, trimmed and thinly sliced
½ cup loosely packed curly leaf parsley leaves, chopped
Salt and pepper to taste