Grilled Cod Sandwiches with Cheddar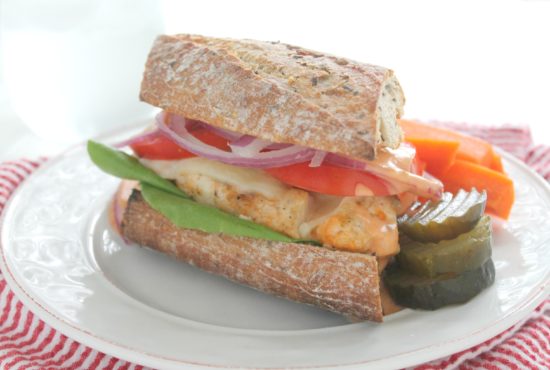 Place cod and 1 cup Drew's Organic Thousand Island Dressing and Quick Marinade in a resealable bag. Marinate in the refrigerator for 30 minutes. Preheat grill to medium high heat. Clean and oil the grates. Grill fish until it reaches an internal temperature of 145 degrees F or until it is opaque and flakes easily with a fork, flipping after 6-8 minutes. Discard marinade. Remove fish from grill, divide into four pieces and top with cheddar.  (Fish will be flaky and will not remain completely intact – not to worry, the cheddar will help hold the fish together in the sandwich.)
Add leaves of lettuce, fish, tomato and red onion to each baguette piece. Drizzle with remaining ¼ cup Drew's Organic Thousand Island Dressing and Quick Marinade. Serve with pickles. 
*If you don't want to use the baguette, rolls or buns work well.
Jenny Shea Rawn MS, MPH, RD is a Cape Cod, Massachusetts based Registered Dietitian, nutrition communications consultant and healthy food blogger at My Cape Cod Kitchen.
Ingredients
2 lbs cod loin (or other white fish)
1 1/4 cups Drew's Organics

4 thick slices cheddar cheese
1 whole wheat baguette, sliced in half (sandwich style), then sliced into four pieces*
8 butter lettuce leaves
1 tomato, sliced
1/2 red onion, sliced
pickles, for serving