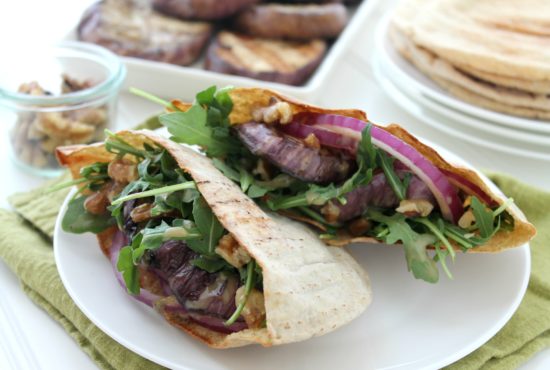 Marinate eggplant slices in Drew's Organic Tahini Goddess Dressing & Quick Marinade for 30 minutes. Preheat grill to medium heat. Grill the eggplant slices for 5 minutes on each side, or until tender. Remove from grill and place on a plate.
Assemble sandwiches by stuffing each pita half with ¼ cup arugula 2 slices of eggplant (careful, eggplant will be hot!), a few slices of red onion and ½ Tbsp walnuts. Drizzle each pita half with additional dressing. Serve.
Note: eggplant can also be grilled ahead of time and chilled for quick sandwich assembly when ready to eat.
Jenny Shea Rawn MS, MPH, RD is a Cape-Cod, Massachusetts based Registered Dietitian, nutrition communications consultant and healthy food blogger at My Cape Cod Kitchen.
Ingredients
2 eggplants, sliced into ½ inch rounds (we used Sicilian Zebra eggplan
4 whole grain pitas, halved
2 cups baby arugula
½ red onion, thinly sliced
4 tbsp. walnuts, chopped