Grilled Romaine with Creamy Ranch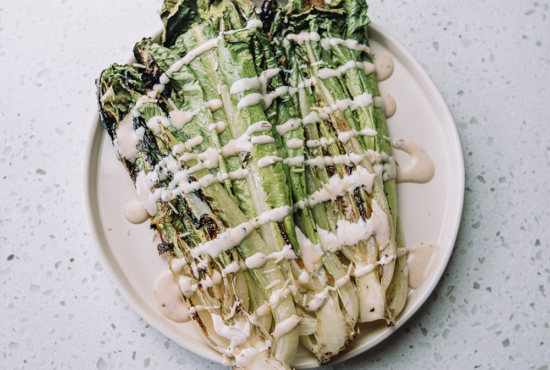 Heat either a grill pan or outdoor grill to 400 degrees F.
Wash the whole romaine lettuce. Cut in half, lengthwise to create 4 pieces of lettuce.
Face romaine cut side up and brush half of olive oil on top of romaine lettuce. Season with salt and pepper.
Place romaine directly on the grill cut side down and grill for 2 minutes. Flip romaine lettuce over and cook for another 2-3 minutes or until the lettuce reaches the desired level of char.
Remove romaine from the grill. Drizzle Drew's Organics Creamy Dressing over top.
Add additional toppings like shredded parmesan cheese, a sprinkle of lemon juice or diced cherry tomatoes.
Jasmin Foster is a registered dietitian and food photographer in Washington, D.C. who believes in healthy balanced eating.
Ingredients
2 whole heads of romaine
2 tbsp olive oil
salt
pepper