Grilled Thai Coconut Sesame Chicken with Vegetables and Barley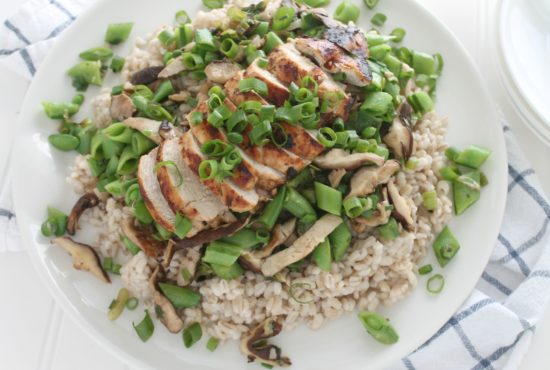 Place chicken and marinade into a resealable plastic bag. Place in the fridge and marinate for 30 minutes.
Meanwhile combine barley and 2.5 cups of water in a medium saucepan. Bring to a boil, covered, over medium high heat, then simmer 35-40 minutes or until tender. Fluff barley with a fork.
Preheat grill to medium high heat. Clean and oil the grates. Add the chicken and grill 5-8 minutes on each side, or until chicken reaches an internal temperature of 165 degrees F, as measured with a meat thermometer in the thickest part of the breast. Cooking time will vary depending on thickness of the breast. Discard marinade. Remove chicken from grill and set aside. Slice chicken when slightly cooled.
Meanwhile, add oil to a medium sauté pan over medium high heat. When hot, add mushrooms and sauté 8-10 minutes until most of the water is absorbed and mushrooms begin to lightly brown. Add white parts of scallions and sugar snap peas. Sauté another few minutes then remove from heat. Place cooked barley on a large serving platter. Top with vegetables, chicken and drizzle with additional dressing. Sprinkle with the green parts of the scallions. Serve.
Jenny Shea Rawn MS, MPH, RD is a Cape Cod, Massachusetts based Registered Dietitian, nutrition communications consultant and healthy food blogger at My Cape Cod Kitchen.
Ingredients
1.5 lbs chicken breast
1 cup Drew's Organics

1 cup pearled barley
1 tbsp. olive or canola oil
2 3.5 containers shiitake mushrooms, stemmed and thinly sliced
1/2 bunch scallions, thinly sliced, white and green parts divided
1.5 cups sugar snap peas, sliced