Grilled Vegetable Salad with Tahini Goddess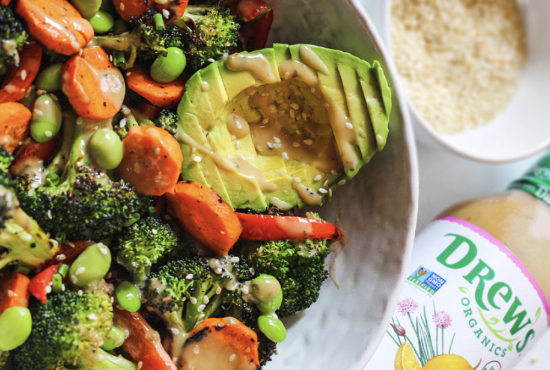 In a large bowl, combine the avocado oil, salt, carrots, broccoli, red bell pepper and toss.
Heat your grill pan to medium-high heat. Add the vegetables to the grilling pan. Grill for 5 minutes, flip and grill for an additional 5 minutes, or until the vegetables are slightly charred and soft.
Divide the grilled vegetables into bowls and top with half an avocado and edamame.
Drizzle with Drew's Organics Tahini Goddess Dressing and garnish with chopped green onion sesame seeds.
Marissa Wong is a food blogger living in North Carolina writing about vegan recipes, vegan product and health tips.
Ingredients
1 tbsp avocado oil
1/4 tsp salt
2 large carrots (peeled and chopped)
2 cups broccoli (trimmed and chopped)
1 red bell pepper (chopped)
1/3 cup shelled edamame
1 avocado (peeled, pitted & halved)
sesame seeds
green onion (chopped)