Honey Dijon Chicken Thighs with Rainbow Potatoes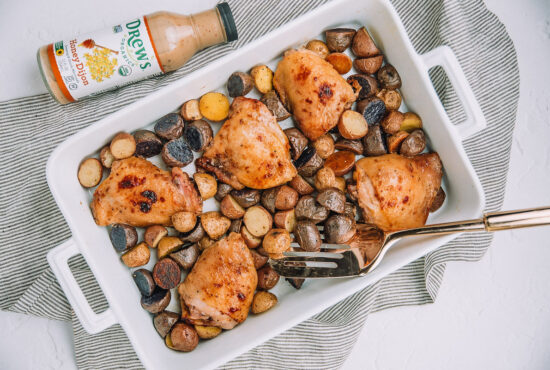 Place chicken thighs into a zipped plastic bag. Pour 3⁄4 cup Drew's Organics Honey Dijon Dressing and Quick Marinade into the bag. Close the bag with seal, removing most of the air from inside and place the bag into the fridge.
While the chicken marinades, preheat the oven to 425 degrees F. Cut the potatoes into small 1⁄2 inch pieces. Drizzle with olive oil, salt and pepper and optional rosemary.
Once the chicken thighs are finished marinating, place into a 9 x 13 baking dish. Transfer the chicken thighs and potatoes to the oven. Cook for 35-40 minutes or until chicken has reached an internal temperature of 165 degrees F.
Remove the potatoes and chicken thighs from the oven. Brush an additional 3 tbsp of dressing on top of the chicken thighs. Turn the broiler on and return the pan to the oven to cook for 4 minutes or until the skin is golden brown.
Jasmin Foster is a registered dietitian and food photographer in Washington, D.C. who believes in healthy balanced eating.
Ingredients
5 chicken thighs (skin and bone-in)
1 ½ pounds white, purple & red potatoes
2 tbsp olive oil
salt
pepper
rosemary (optional)