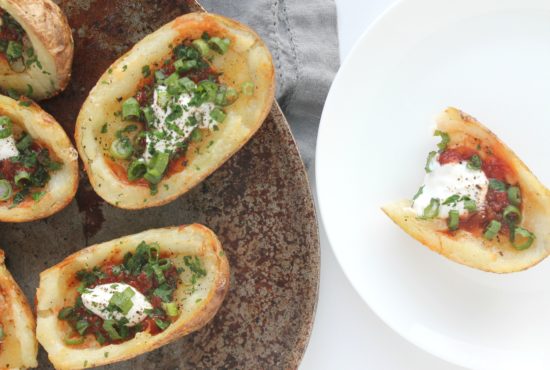 Preheat oven to 400 degrees F.
Place whole potatoes directly on an oven rack and bake for 40-50 minutes until potatoes are tender and skins have crisped. Remove from oven and let cool slightly until potatoes are able to be handled. Slice potatoes in half lengthwise and scoop out flesh, leaving a thin flesh layer within each skin. Set flesh aside for another use.**
Place olive oil in a small bowl and using a brush, brush each skin (top and bottom) with olive oil. Sprinkle the hollowed-out side of each skin with salt and black pepper.
Place the oven on broil. Line a baking sheet with tinfoil. Place potato skins hollowed side down on baking sheet and broil 2 minutes, keeping a close eye on them so they don't burn. Flip potato skins over and broil an additional 2-3 minutes. Remove potato skins from oven and top equally with shredded cheddar cheese. Place back in broiler for 1-2 minutes until cheese is melted. Remove potato skins from oven. Top with Drew's Organic Chipotle Lime Salsa, sour cream, scallions and black pepper. Serve immediately.
Recipe notes:
*Any of the Drew's salsas may be substituted for the Drew's Organic Chipotle Lime Salsa.
** One of our favorite ways to use the leftover potato flesh is to pan fry it until golden brown then top with shredded cheddar and any of our salsas. Serve as a side dish.
Jenny Shea Rawn MS, MPH, RD is a Cape-Cod, Massachusetts based Registered Dietitian, nutrition communications consultant and healthy food blogger at My Cape Cod Kitchen.
Ingredients
4 medium russet potatoes, scrubbed, dried and pierced a few times with a knife
2 Tablespoons olive oil
Salt
Black Pepper
6 oz (1 ½ cups) shredded cheddar cheese
½ cup Drew's Organics

¼ cup sour cream or plain Greek yogurt
2 scallions (white and green parts), thinly sliced