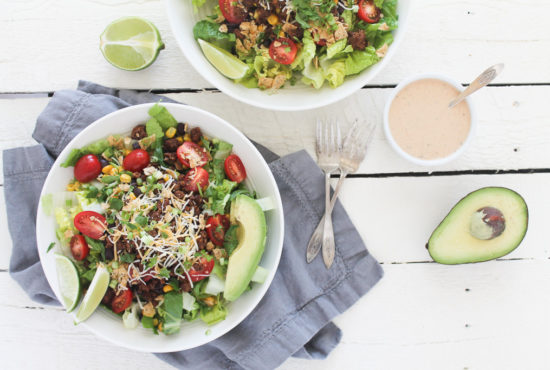 Heat olive oil in a sauté pan over medium heat. Add meatless crumbles. Break up any chunks of crumbles. Cook 4-5 minutes, stirring frequently. Remove from heat and set aside.
Place lettuce in a large salad bowl or on a serving platter. Top with black beans, corn and tomatoes. Add warm meatless crumbles, followed by cheese, avocado slices, crushed chips and cilantro.
Serve salad with Drew's Organics Chipotle Ranch Dressing and Quick Marinade and lime wedges.
Jenny Shea Rawn MS, MPH, RD is a Cape-Cod, Massachusetts based Registered Dietitian, nutrition communications consultant and healthy food blogger at My Cape Cod Kitchen.
Ingredients
12 oz meatless Mexican (or original) crumbles (we used Lightlife brand)
1 teaspoon extra virgin olive oil
2 heads romaine lettuce, torn or chopped into bite-sized pieces
1 15 oz can black beans, drained and rinsed
1 cup frozen corn kernels, cooked then cooled
1 cup grape or cherry tomatoes, halved
½ cup shredded Mexican cheese
1 avocado, thinly sliced
1 cup whole grain tortilla chips, crushed
½ cup cilantro, chopped
1 lime, cut into wedges