Mini Mediterranean Pizzas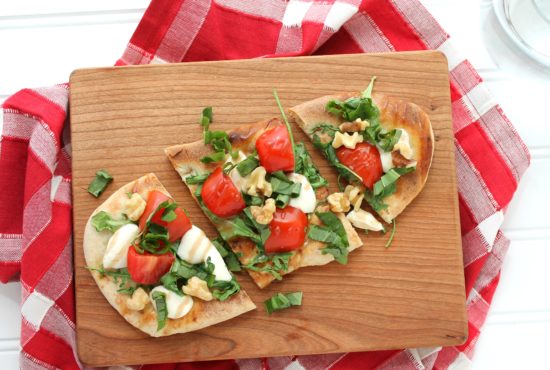 Preheat your oven or toaster oven to 350 degrees. Place naan bread in oven for 5 minutes, until lightly toasted and firm. Remove from oven.
Top each naan bread equally with arugula, tomato halves and mozzarella halves. Place in oven for additional 3 minutes. Remove from oven and top pizzas with chopped walnuts and slivered basil leaves. Drizzle with dressing and slice. Serve with additional dressing on the side for dipping.
Recipe by Jennifer Shea Rawn MS, MPH, RD (www.JennySheaRawn.com)
Ingredients
4 mini naan bread (plan, garlic or whole wheat)
2 cups arugula
1 cup grape tomatoes, halved
4 oz. marinated mini mozarella balls, halved
¼ cup chopped walnuts
8 basil leaves, slivered