Orange Feta Pistachio Salad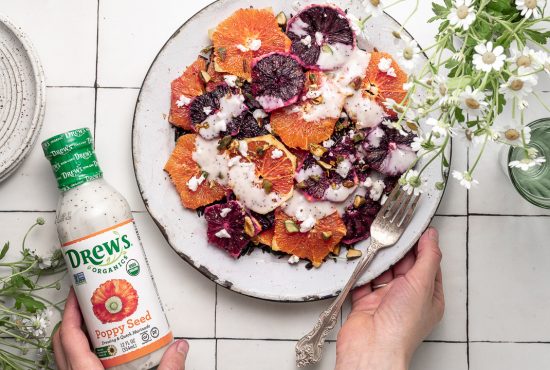 Prepare the wild rice first if desired. Rinse the rice in a fine-mesh strainer under cold running water. Then, add the rice and four cups of water into a medium-sized saucepan and bring to a boil.
Reduce the temperature to a low heat and cover. Let simmer for 45 minutes, stirring occasionally.
Drain the excess liquid. Fluff the rice with a fork and set it aside to cool completely before assembling the salad.
Slice both the Cara Cara and blood orange into circular slices and then cut the edges off into hexagon shapes to remove the rind.
In a large bowl or serving platter place the arugula. Add a few scoops of cooked and cooled wild rice and then top the arugula with orange slices and shaved red onion. 
Sprinkle with chopped pistachios and vegan feta cheese crumbles and add fresh cracked pepper. 
Drizzle with Drew's Poppy Seed Dressing when you are ready to enjoy! 
Mikyla of Flax & Sugar is a vegan food blogger and recipe creator dedicated to creating simple and satisfying recipes.
Ingredients
1 cup wild rice
4 cups water
2 Cara Cara oranges
3 blood oranges
¼ cup red onion (thinly shaved)
4 cups arugula
¼ cup chopped pistachios
¼ cup vegan feta crumbles
fresh cracked black pepper
¼ cup Drew's Organics