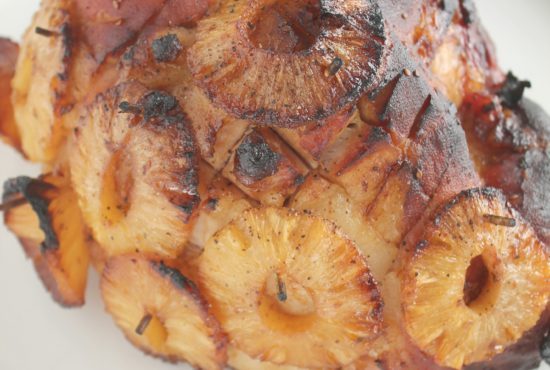 Preheat the oven to 350 degrees F.
Using a paring knife, score the fatty part of the ham in a diamond pattern, cutting into the fat about ½ an inch deep. Place the ham on a rack in a roasting pan, cut side down (fatty side up).
Pour half (6 oz) of the Drew's Organic Orange Sesame Ginger Dressing over the ham so it is fully coated. Arrange the pineapple rings on the fatty part of the ham, sticking in place with the toothpicks. Pour remaining dressing over the ham and pineapple slices and sprinkle with black pepper. Pour the pineapple juice into the pan.
Cover the pan with foil and bake for 1 ½ hours. Remove foil, baste with juices and finish cooking for another ½ – 1 hour, until the internal temperature of the ham reaches at least 145 degrees F as measured by a meat thermometer. * Broil ham for the last few minutes of cooking if you like a darker and crisper skin.
Remove ham from oven. Let rest for at least 10-15 minutes. Remove toothpicks from the pineapple. Slice and serve ham with pineapple slices.
*Most hams have cooking instructions on the packaging. If so, follow the heating/reheating instructions given for the ham you've purchased, as some have specific time and temperatures depending on cut and whether the ham is fully cooked but needs to be reheated or fully cooked ready to eat.
Ingredients
1 (6-8 lb) smoked bone-in fully cooked ham
1 12 oz bottle Drew's Organics

1 20 oz can pineapple slices (rings) in juice
Black pepper