Pretzel Crusted Macaroni and Cheese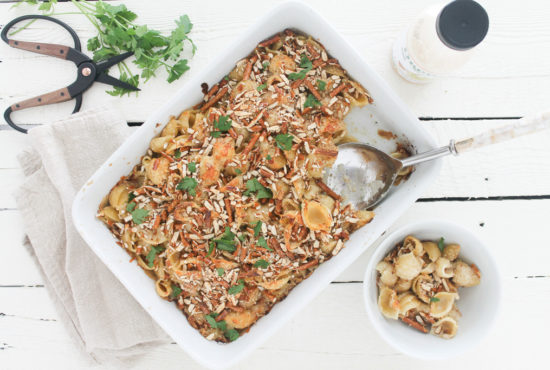 Preheat the oven the 425ºF.
Bring a large pot of salted water to a boil over medium high heat. Add pasta and boil until just less than al dente, 6-7 minutes. Drain well and pour into a 13"x9" casserole dish that's been sprayed with cooking spray. Set pot aside to make the cheese sauce.
Add butter to the large pot over medium low heat until melted. Add the flour and whisk to combine. Cook for 1-2 minutes until the flour begins to turn light brown. Whisk in the milk, Drew's Organics Honey Dijon Dressing & Quick Marinade, garlic powder and black pepper. Simmer over medium low heat for 4-5 minutes, stirring frequently until the sauce thickens slightly.
Add 5 cups of cheese into the milk mixture, a little bit at a time, stirring constantly until the cheese is melted and the sauce is smooth. Remove sauce from heat and pour over pasta shells. Mix cheese sauce and pasta shells with a spoon until well combined.
Top pasta with remaining cup of cheese and crushed pretzels sticks.
Bake 20-25 minutes until the top is golden brown. Top with chopped parsley, if desired. Serve.
Jenny Shea Rawn MS, MPH, RD is a Cape-Cod, Massachusetts based Registered Dietitian, nutrition communications consultant and healthy food blogger at My Cape Cod Kitchen.
Ingredients
1 lb medium pasta shells
3 Tablespoons salted butter
2 Tablespoons all-purpose flour
2 cups whole milk
1 Tablespoon garlic powder
¼ teaspoon black pepper
10 oz sharp cheddar, shredded (about 6 cups), divided approximately into 5 cups and 1 cup
60 pretzel sticks (about 60 grams), crushed
Chopped parsley (optional for garnish)