Quick Black Bean Quesadillas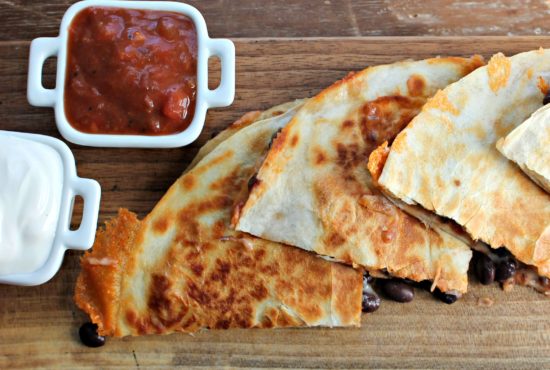 Assemble quesadillas by spreading salsa, divided evenly, onto 4 flour tortillas. Layer salsa with equal amounts black beans and cheddar cheese and top with remaining 4 tortillas. Spray a nonstick pan with cooking spray and heat pan over medium heat. Heat quesadillas in batches until lightly browned and until the cheese is melted. Slice into quarters and serve with sour cream and additional salsa.
Jenny Shea Rawn MS, MPH, RD is a Cape-Cod, Massachusetts based Registered Dietitian, nutrition communications consultant and healthy food blogger at My Cape Cod Kitchen.
Ingredients
8, 6-inch flour tortillas
1/2 cup Drew's Organics

2 cups canned black beans, drained and rinsed
2 cups cheddar cheese, shredded
Sour Cream (for dipping, if desired)
Extra salsa (for dipping, if desired)