Roasted Veggies with Candied Pecans and Creamy Ranch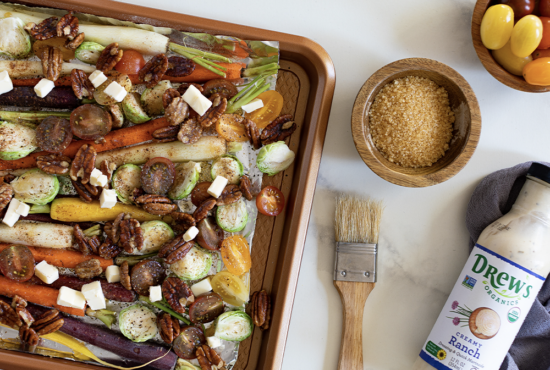 Preheat the oven to 350 degrees F and line your baking sheet with foil paper.
Place the veggies in a single layer (one veggie type at a time; i.e. carrots and then brussels sprouts, etc.) onto the baking sheet.
Sprinkle the brown sugar atop all veggies and evenly place all the butter cubes on top as well. Lastly, sprinkle with salt, pepper, thyme and cinnamon.
Place everything in the oven and bake for 45-50 minutes or until the carrots and brussels sprouts are just fork tender.
NOTE: During baking, be sure to turn the carrots a few times so that they brown evenly on all sides.
Meanwhile, prepare the candied pecans.
To Make Candied Pecans:
Begin by melting the butter in a small pan on low heat. Once the butter is melted, add the maple syrup, brown sugar and pecans, stirring until everything is well combined and the mixture thickens about 2-3 minutes.
Remove the pecan mixture from heat and add them onto the baking sheet during the final 10 minutes of baking veggies.
Once done, remove the baking sheet with veggies from the oven and place them onto a serving dish.
Drizzle with Drew's Organics Creamy Ranch Dressing or add it on the side in a small dipping bowl and sprinkle the veggies with additional dried thyme.
Shanika of Orchids + Sweet Tea is a food blogger and recipe developer creating comfort foods and sweets, with a healthy twist.
Ingredients
2 lb carrots (peeled)
3 cups brussels sprouts (halved)
2 cups grape tomatos (halved)
1/2 cup brown sugar
4 tbsp unsalted butter (cubed)
1 tsp sea salt
1 tsp black pepper
1/2 tsp ground cinnamon
1 tbsp dried thyme
1-2 cups chopped pecan halves
2 tbsp unsalted butter
3 tbsp pure maple syrup
1 tbsp brown sugar
sea salt