Rosemary Balsamic Baked Feta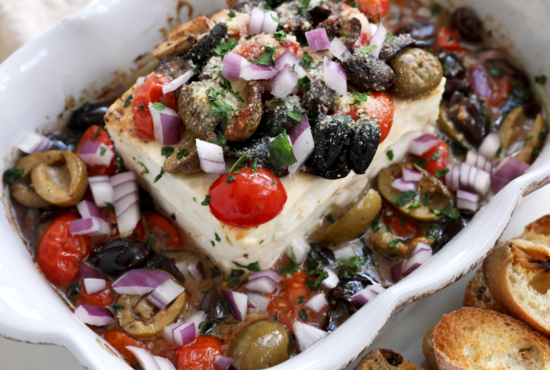 Preheat oven to 400 degrees F. Place feta block in a small oven safe dish (just large enough to hold the feta with a bit of space around it). Combine tomatoes, olives and Drew's Organics Rosemary Balsamic Dressing and Quick Marinade in a bowl. Toss. Pour tomato mixture on top and around feta block. Sprinkle Parmesan overtop feta. Bake feta for 20-25 minutes until warmed through and softened.
Remove from oven and scatter red onion on top and around feta. Sprinkle with chopped parsley. Squeeze lemon half overtop, if desired. Serve warm with toasted baguette slices and/or crackers.
Ingredients
1 14 ounce block Greek feta (sheep's milk) in brine, drained
1 cup cherry or grape tomatoes, halved
3/4 cup olives (we used a mixture of Kalamata and green olives), pitted, halved
1 tablespoon grated Parmesan cheese
¼ medium red onion, diced
1 tablespoon chopped parsley (for garnish)
½ lemon (optional)
Toasted baguette slices and/or crackers