Rosemary Balsamic Steak & Eggs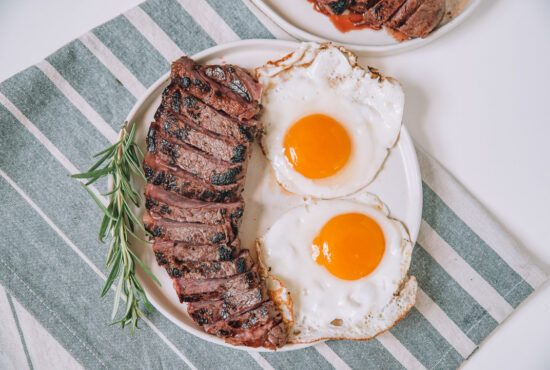 Use a paper towel to pat the steak dry to remove excess moisture. Place the steak in the plastic sealed bag (the bag can be smaller just make sure your steak is able to fit). Pour Drew's Organics Rosemary Balsamic Dressing into the bag, remembering to let out as much air as possible when sealing.
Move the steak around with your hands to evenly distribute the marinade. Then place the bag in the refrigerator to marinate for at least 30 minutes.
Once marinated, remove from the refrigerator. Heat a cast iron skillet over medium to high heat. The key is to make sure the cast iron skillet is hot. Remove steak from the bag and gently lay the steak in the skillet. Make sure to lay it down in the direction away from you to avoid splatter.
Cook for 3-5 minutes. For thin steaks stick to around 3 minutes and for thicker steak aim for 5 minutes. Flip the steak over and continue to cook for another 3-5 minutes. Remove from pan and let rest for 5 minutes. Allowing the steak to rest will help the juices redistribute and while also allowing the residual heat to continue cooking the steak.
While the steak rests cook the eggs. Heat a nonstick skillet over medium heat. Pour 1 tbsp olive oil into the skillet. Crack the eggs and pour directly in the pan to fry. Cook eggs for 3 minutes or until the egg whites set. Remove from pan.
Use a sharp knife or preferably a steak knife to slice the now rested steak at an angle against the grain.
Jasmin Foster is a registered dietitian and food photographer in Washington, D.C. who believes in healthy balanced eating.
Ingredients
2 New York Strip Steaks
2 tbsp olive oil
4 eggs
2 sprigs of rosemary (optional)