Seared Sea Scallops with Orange Sesame Glaze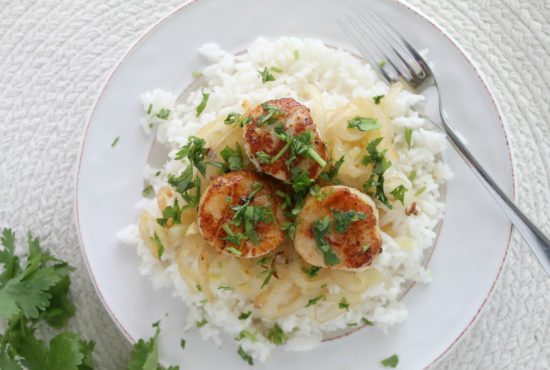 Place rice and 1 ½ cups of water in a medium pot, cover and bring to a boil. Reduce heat to low and simmer for 10-15 minutes until rice is tender. Remove from heat, let sit for 5 minutes, then fluff with a fork.
Meanwhile, pat the scallops dry with a paper towel, season with salt and freshly ground pepper on both sides and set aside. Heat olive oil in a non-stick skillet over medium heat.  Add the onion and sauté about 5 minutes until onion is tender. Add the ginger and turn heat to low. Sauté another 1-2 minutes. Remove onions and ginger from the pan. Heat pan to medium high heat. Add the scallops and cook for 2-3 minutes on one side until a nice sear forms. Flip scallops and add the Drew's Organic Orange Sesame Ginger Dressing to the pan. Cook for an additional 1-2 minutes or until desired doneness.
Divide rice between four plates. Top each plate with onion and ginger mixture, scallops and chopped cilantro. Serve with additional Drew's Organic Orange Sesame Ginger Dressing & Quick Marinade for drizzling.
Jenny Shea Rawn MS, MPH, RD is a Cape Cod, Massachusetts based Registered Dietitian, nutrition communications consultant and healthy food blogger at My Cape Cod Kitchen.
Ingredients
1 cup Jasmine rice
1 1/2 pounds sea scallops
1 tsp extra virgin olive oil
1 medium Vidalia onion, thinly sliced
1 tbsp fresh ginger, peeled and finely minced
1/4 cup Drew's Organics

1/2 bunch fresh cilantro, chopped
salt
freshly ground black pepper