Sheet Pan Turkey Taco Nachos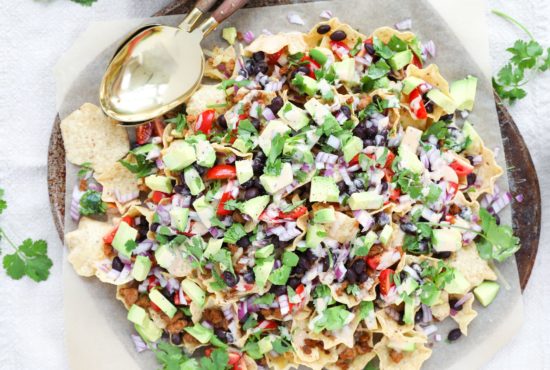 Preheat the oven to 350 degrees F. Line a baking sheet with parchment paper or tinfoil.
Heat olive oil over medium heat in a non-stick skillet. Add turkey breast and break up using a spatula or wooden spoon. Cook turkey meat until browned and cooked through. Add salt, black pepper, garlic, cumin and chili powder to the turkey. Stir until combined, cooking another minute. Remove turkey from heat.
Spread half of the chips onto the prepared baking sheet. Top with half of the turkey and half of the cheese. Add the rest of the chips, remaining turkey then remaining cheese. Place baking sheet into the oven for 5 minutes, until cheese is melted. Remove baking sheet from oven.
Top nachos with black beans, tomatoes, avocado, red onion and cilantro. Drizzle with Drew's Organics Chipotle Ranch Dressing & Quick Marinade. Serve immediately.
Jenny Shea Rawn MS, MPH, RD is a Cape-Cod, Massachusetts based Registered Dietitian, nutrition communications consultant and healthy food blogger at My Cape Cod Kitchen.
Ingredients
1 teaspoon olive oil
1 lb ground organic turkey breast
1 teaspoon cumin
1 teaspoon chili powder
½ teaspoon kosher salt
½ teaspoon garlic powder
¼ teaspoon ground black pepper
10-12 ounces tortilla chips
10 ounces shredded cheddar cheese
1 cup canned black beans, drained and rinsed
1 cup grape tomatoes, quartered
1 avocado, cut into chunks
¼ red onion, diced
1 cup cilantro, loosely packed, roughly chopped