Shiitake Ginger Grilled Salmon Salad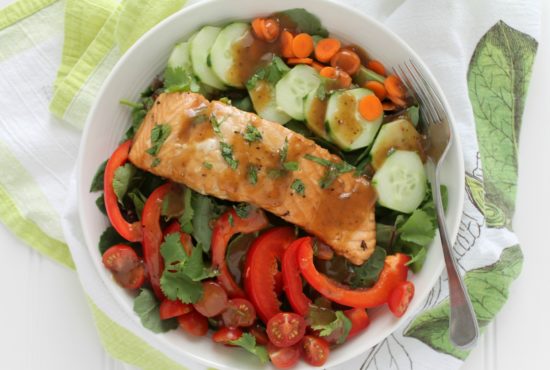 Directions: Preheat grill to medium heat. In a bowl or plastic resealable bag, coat the salmon with 4 ounces of Drew's Organic Shiitake Ginger Dressing & Quick Marinade. Let salmon marinate while the grill preheats. Meanwhile, create four equally-sized salads with the mesclun, sliced pepper, tomato halves, cucumbers, and carrots. Grill salmon skin side down until it reaches a safe internal temperature of 145 °F, or until desired doneness. Cooking time will vary depending on thickness of the salmon portions. Place salmon atop the salads. Pour remaining 4 ounces of dressing over the salads. Sprinkle with cilantro and serve.
Jenny Shea Rawn MS, MPH, RD is a Cape-Cod, Massachusetts based Registered Dietitian, nutrition communications consultant and healthy food blogger at My Cape Cod Kitchen.
Ingredients
8 oz Drew's Organics

1 ½ pounds fresh salmon filet, cut into 4 portions
8 cups mesclun salad mix or any baby greens
1 red bell pepper, thinly sliced
1 pint cherry tomatoes, halved
1 large cucumber, peeled and sliced
½ cup baby carrots, thinly sliced
¼ cup cilantro, roughly chopped