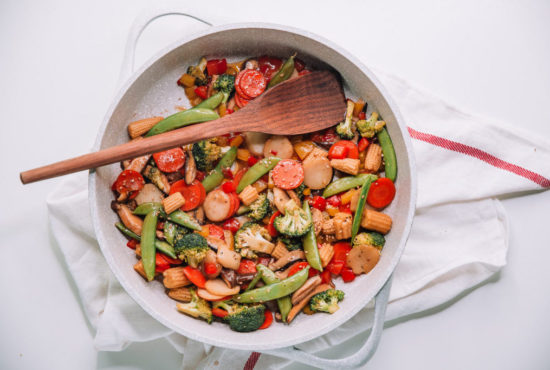 Mix Drew's Organics Shiitake Ginger Dressing and Marinade, soy sauce and cornstarch in a small bowl. Set aside.
Heat a wok or large skillet over medium heat. Add 1 tbsp olive oil. Next, add garlic and sautée for 30 secs to 1 minute. Add red and yellow bell pepper, sugar snap peas, carrots, mushrooms, broccoli, baby corn, water chestnuts and minced garlic. Cook for about 3 minutes. Vegetables should be partially cooked and still crunchy.
Add Drew's Organics Shiitake Ginger Dressing mix to pan. Sautéed for an additional 2-3 minutes or until desired firmness of vegetables. Top with sesame seeds.
Tips:
Substitute shiitake mushrooms for any other mushroom variety. Don't worry, there's enough shiitake flavor in the Drew's Organics Dressing.
Make this stir fry gluten-free by using liquid aminos or a gluten-free soy sauce.
Jasmin Foster is a registered dietitian and food photographer in Washington, D.C. who believes in healthy balanced eating.
Ingredients
1/2 cup Drew's Organics

1 tsp cornstarch
1 tbsp soy sauce
1 tablespoon olive oil
2 cloves minced garlic
1/2 cup red bell pepper, chopped
1/2 cup yellow bell pepper, chopped
1/2 cup sugar snap peas
1 cup sliced carrots
1 cup mushrooms sliced
1 cups broccoli
1/2 cup baby corn
1/2 cup water chestnuts
sesame seeds (optional)