Shiitake Ginger Zoodles with Chicken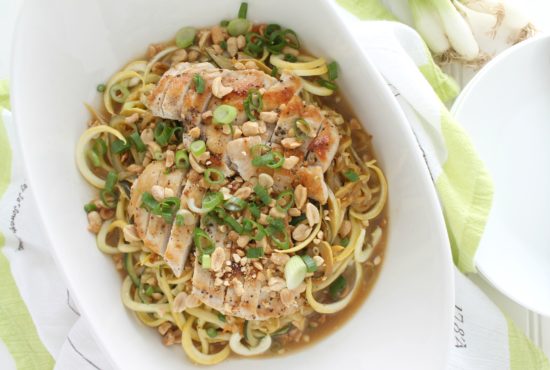 Season chicken on both sides with salt and pepper. Add oil to a large sauté pan over medium high heat. When pan and oil are hot, add chicken to the pan and cook until the underside is lightly browned, about 5 minutes. Flip chicken and cook another 5-10 minutes, until chicken is lightly browned and cooked through to an internal temperature of 165 degrees F, as measured by a meat thermometer in the thickest part of the breast. Cooking time will vary, depending on the thickness of the breast. Remove chicken from pan and let rest.
Place zucchini and summer squash noodles in the pan over medium high heat. Add the white part of the scallions and 1/3 cup dressing to the pan. Sauté for 10 minutes, stirring frequently, until zoodles are softened, but still have their form. Remove from heat and place onto a serving platter.
Slice chicken and place atop zoodles. Drizzle remaining ¼ cup dressing overtop chicken. Sprinkle the dish with crushed peanuts and the green part of the sliced scallions. Serve.  
Recipe note: if you don't have a spiralizer, you can peel the squash into ribbons with a vegetable peeler. Or, slice the squash and prepare as above.
Jenny Shea Rawn MS, MPH, RD is a Cape Cod, Massachusetts based Registered Dietitian, nutrition communications consultant and healthy food blogger at My Cape Cod Kitchen.
Ingredients
1 tbsp. olive or canola oil
1 lb organic chicken breasts
2 medium summer squash, spiralized
1 medium zucchini, spiralized
2 scallions, thinly sliced, white and green parts divided
1/3 cup Drew's Organics

1/2 cup lightly salted peanuts, crushed
salt
black pepper