Shrimp and Quinoa Power Bowl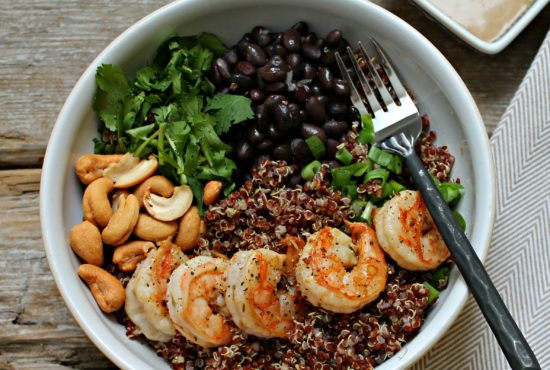 Prepare quinoa according to directions. Set aside. Meanwhile, place shrimp in a plastic bag along with ¼ cup of Drew's Organic Goddess Dressing & Quick Marinade. Marinate shrimp for 15 minutes.
Spray a nonstick sauté pan with cooking spray and heat on medium-high. Remove shrimp from marinade and place in the heated pan. Discard marinade. Sauté 2-3 minutes on each side, or until shrimp are opaque and cooked through. Remove from heat.
Assemble four bowls with quinoa on the bottom and equal amounts of toppings in each bowl: shrimp, black beans, scallions, cashews and cilantro. Drizzle with Drew's Organic Tahini Goddess dressing or serve on the side for dipping.
Jenny Shea Rawn MS, MPH, RD is a Cape-Cod, Massachusetts based Registered Dietitian, nutrition communications consultant and healthy food blogger at My Cape Cod Kitchen.
Ingredients
1 cup red or white quinoa, dry
1 lb. raw shrimp, deveined and peeled
1 cup canned black beans, drained and rinsed
1 bunch scallions, white parts removed, thiny sliced
½ cup salted cashews
½ cup cilantro, chopped