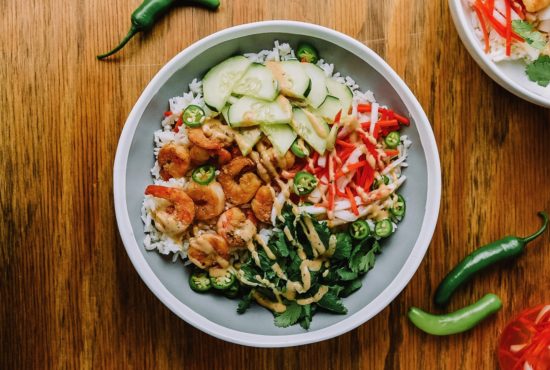 Pickling Carrots and Daikon
Chop the carrots and daikon into small matchsticks. A julienne slicer is great for saving time with cutting. In a small bowl add rice vinegar, sugar, water and salt. Mix until well combined. Another vinegar that works just as well as rice vinegar is white vinegar. Add carrots and daikon to a clean jar and fill the jar with the vinegar mixture until carrots and daikon are completely submerged. Cover the jar and let sit for at least 30 minutes (better is left to sit overnight). Note that the longer that the jar sits, the better and more potent the smell.
Rice and Toppings
Next, prepare the rice according to package instructions. Season the shrimp with salt and pepper. Heat a skillet or grill pan over medium heat. Add olive oil to the pan, then add shrimp (lay shrimp flat in one layer for even cooking). Cook for 1-3 minutes and flip over. Continue to cook for an additional couple of minutes or until the shrimp is cooked through. Remove shrimp from heat.
Prepare Bowl
Start with a base of rice layered with your cooked shrimp, then add the pickled carrots and daikon, followed by cucumbers, jalapeños and fresh cilantro. Drizzle Drew's Organics Chipotle Ranch Dressing and Marinade over top.
Jasmin Foster is a registered dietitian and food photographer in Washington, D.C. who believes in healthy balanced eating.
Ingredients
2 carrots
1 white daikon radish
1 cup rice wine vinegar
1/3 cup sugar
1/2 tsp salt
1/2 cup water
1 lb shrimp (peeled and de-vined)
1 cup Jasmin or Basmati rice
1 cup cilantro
1/2 cup cucumber
1/4 cup jalapeño
1 tbsp sriracha (optional)
salt and pepper to taste