Smashed Potatoes with Chipotle Ranch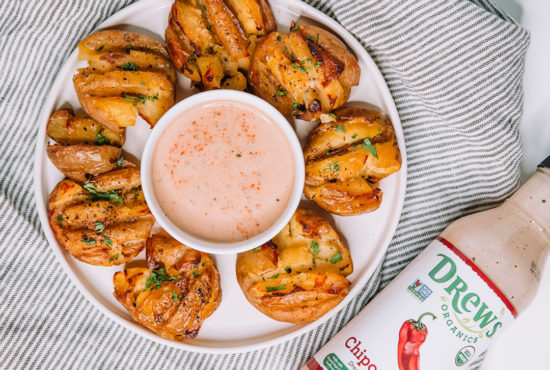 Preheat oven to 450 degrees F. Wash potatoes. Bring a large pot of water to a boil and add potatoes. Cook for 20-30 minutes or until potatoes are soft. Remove potatoes from water. Allow potatoes to cool for at least 5 minutes.
Lightly brush a baking pan with olive oil. Transfer mini potatoes to the pan. Using a for or potato masher, gently smash potatoes to where they're still intact.
Drizzle each potato with olive oil and season with salt, pepper, onion powder, garlic powder. Place roasting pan with potatoes and cook for 18-25 minutes.
Remove from oven. Top with chopped parsley. Drizzle Drew's Organics Chipotle Ranch on top of smashed potatoes or dip potatoes in dressing. Enjoy!
Jasmin Foster is a registered dietitian and food photographer in Washington, D.C. who believes in healthy balanced eating.
Ingredients
2 pounds mini gold potatoes
2 tbsp olive oil
1/2 tsp onion powder
1/2 tsp garlic powder
fine sea salt
cracked black pepper