Spicy Slow Cooker Chicken Bowls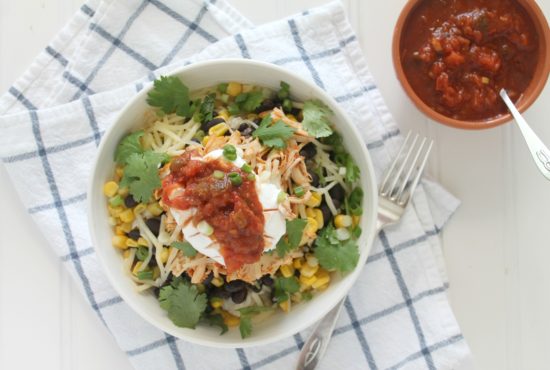 Place chicken in large slow cooker on high. Pour salsa overtop the chicken. Cover and cook on high for 2-3 hours, until chicken reaches an internal temperature of 165 degrees F, as measured with a meat thermometer. Shred chicken in the slow cooker using 2 forks. When ready to serve, assemble bowls by adding brown rice to each bowl, then top with black beans, corn, chicken, cheese, salsa, yogurt, cilantro and scallions (and optional avocado).
Jenny Shea Rawn MS, MPH, RD is a Cape Cod, Massachusetts based Registered Dietitian, nutrition communications consultant and healthy food blogger at My Cape Cod Kitchen.
Ingredients
For the chicken: 12 oz (or use mild if you prefer) Drew's Organics

2 lbs boneless skinless chicken breast
For serving: 4 cups cooked brown rice
3 cups black beans, drained and rinsed
2 cups frozen corn, heated
2 cups shredded cheddar cheese
8 oz (or use mild if you prefer) Drew's Organics

4 oz plain Greek yogurt
1/2 bunch cilantro, chopped
1 bunch scallions, thinly sliced
(optional) 1 avocado, thinly sliced (for a nice pairing to the hot salsa)