Stuffing Cakes with Roasted Garlic & Peppercorn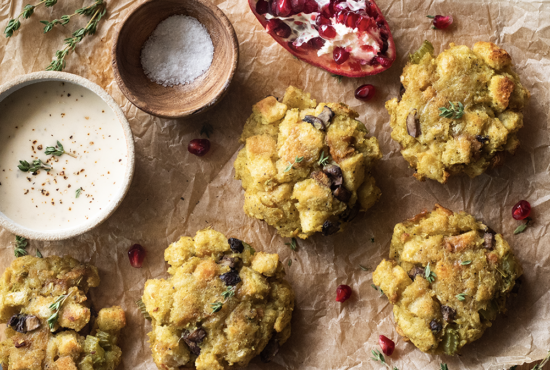 Preheat the oven to 415 degrees F. Line a large baking pan with parchment paper or spray with cooking oil. Set the pan aside.
Add all your ingredients to a large bowl and mix. Your stuffing should be soft and not hard or dry. If your stuffing is too dry, add additional vegetable broth.
Scoop ⅓ cup of the stuffing and form it into a mini cake shape. Place the cake on your pan and repeat until you have shaped all your cakes.
Bake the cakes for 10 minutes, flip and bake for an additional 10 minutes. For a crispier cake, turn the oven on broil and bake for 3 minutes or until the top gets crispy.
Garnish with fresh thyme, pomegranate jewels and dip with Drew's Organics Roasted Garlic & Peppercorn Dressing.
Make it Your Own
Add additional sauteed veggies like carrots, celery and mushrooms to your stuffing.
Want them extra crispy? Turn on your oven to broil and cook for 3-4 minutes watching VERY carefully (they can burn easily).
Marissa Wong is a food blogger living in North Carolina writing about vegan recipes, vegan product and health tips.
Ingredients
2 ½ cups leftover stuffing
3 tbsp vegetable broth (add more if your stuffing is extra dry)
½ tsp Italian seasoning
½ tsp garlic powder
¼ tsp salt